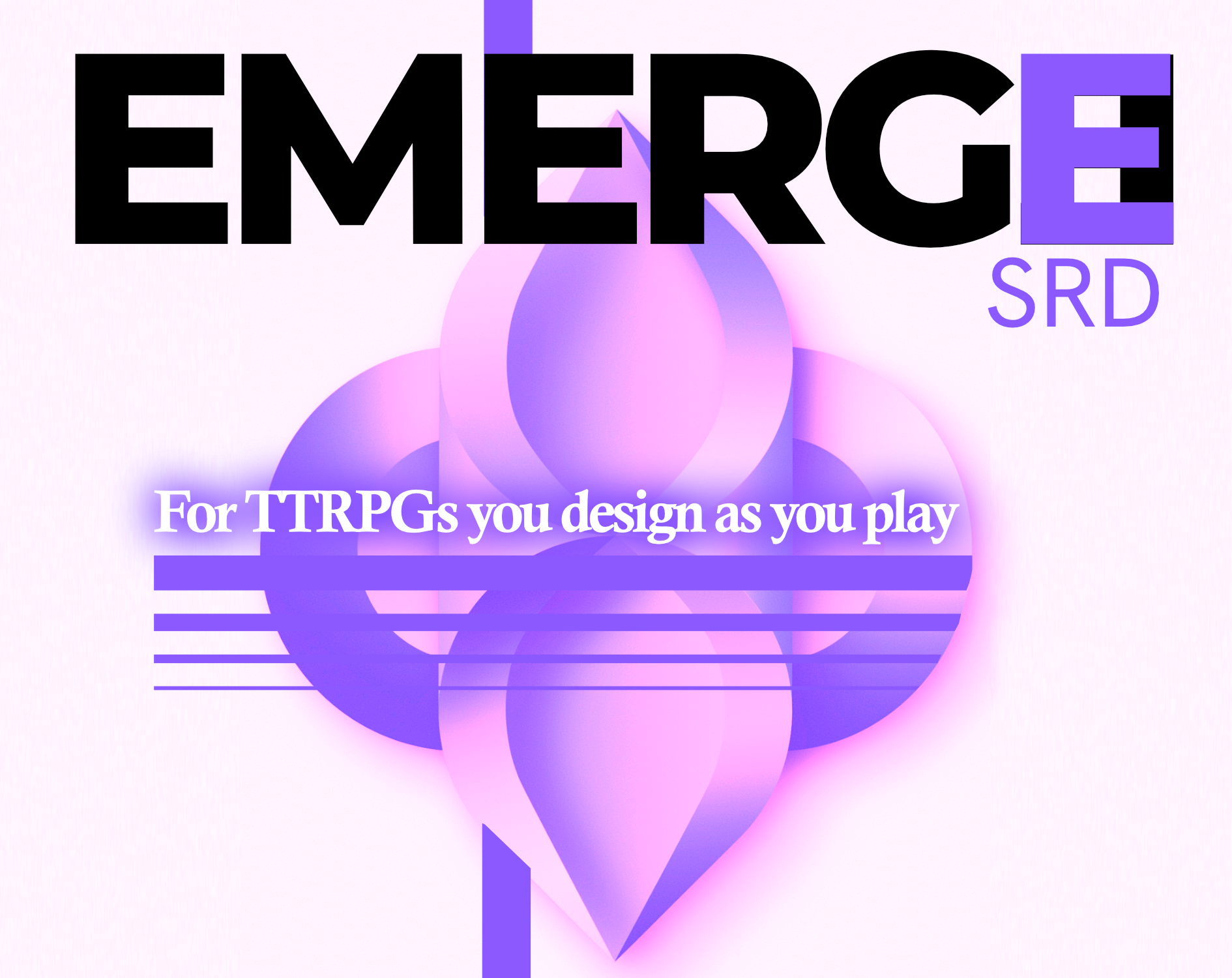 EMERGE8 SRD
A new way to make your own TTRPG, from the creator of Caltrop Core.
Introducing EMERGE8. For TTRPGs you design as you play.
The screenshots to the right comprise the first four pages of the system, which are all you need to start making your game. The rest of the document offers optional mechanics and examples.
Highlights:
d8 dice core
World of Darkness-inspired dice pool and difficulty system
8 skills that invite interpretation
4 Abilities and 2 Powers that encourage collaboration between players and GM
Optional mechanics include:
1 Ultimate to cap off a character's story and kit
Combo moves between player characters
Combat simulated via chessboard and chess pieces
Effect strength keywords, token economies, and more.
Disclaimer: This system is currently in v0.1. I'll make changes as we all discover what it is capable of.
NOTE: The first place I saw chessboard combat in TTRPGs was STARCROSS ARENA by Knighthouse Co., and while it wasn't the direct inspiration for the combat board of my system, it likely seeped into my brain after seeing it there, as it was a Caltrop Core game that I've read through before. Please go follow them and grab Starcross Arena! They've thought through the chessboard system more than I have for sure.
If you want to use this system, you can say your TTRPG is "Emerging via EMERGE8," and add the following attribution text to your doc:
This work is based on EMERGE8, published by Titanomachy RPG. The EMERGE8 SRD is licensed for use under a Creative Commons Attribution 4.0 International License.

Additionally, a link to my Twitter (https://twitter.com/titanomachyRPG) and/or my Itch (https://titanomachyRPG.itch.io) would be greatly appreciated.
You are expressly forbidden from using this system to make games promoting racist, ableist, homophobic, transphobic, misogynist, fascist, or any otherwise bigoted ideas.
And if you're able, I encourage you to use a portion of the proceeds from any EMERGE8 game you release to support PoC game designers, game designers in the global south who can't use Kickstarter to raise funds (like #RPGLATAM and #RPGSEA), local bail funds, mutual aid when you see someone in need online–something GOOD.
Good luck, game designer.
Download
Click download now to get access to the following files:
EMERGE8 SRD v0.1.2.pdf
222 kB
Comments
Log in with itch.io to leave a comment.
My pdf has everything from Combat and onwards printed twice, is that intentional?
I feel like writing a LitRPG (and a campaign with my friends) using this system. I think this system does the job very well, and more.
oh thank you!! that's so cool to hear! my background is in poetry and fiction, so i'd love to hear more about it when you have stuff! i will be first in line to buy!!
My PDF has 24 pages. Maybe try downloading it again?
Sorry, the early page didn't have it! It should be fixed now!!