Lex Kim Bobrow (they/them), known as @titanomachyRPG, is a mixed-Asian, non-binary tabletop roleplaying game designer and writer. They are the creator of Caltrop Core, a d4-based system for creating your own TTRPGs, featured in Dicebreaker's "9 best tabletop RPG systems to hack into a custom game."

Over 200 games have been created by a diverse community surrounding the system since its release in October 2021, with 92 of those coming to life during a 6-day game jam in December 2021 -- and another 92 during the second game jam in April 2022. So far, designers have built 235 games on Lex's SRDs: Caltrop Core, Caltrop Core EX, and EMERGE8.
Award-winning game designer Spencer Campbell says I "have the old magic now."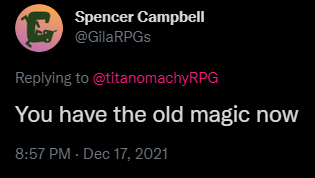 So follow me here and on Twitter, and let's make cool stuff!

I believe your values shine through in any kind of writing, but I'll say it up front anyway:

Black Lives Matter. Stop Asian Hate. ACAB. Abolish the police. Fuck TERFs. My games are not for bigots.